About PJTSAU
The Professor Jayashankar Telangana State Agricultural University (PTSAU) was established on 03-09.2014 as per Telangana Govt's G.O.Ms.No.7, Agricultural and Cooperation (Agri. III) Department, Govt. of Telangana dated 31-07-2014 adapting the ANGRAU act 1993 as "The ANGRAU Act of 1963 (Telangana Adaptation) orders, 2014." Intune with advancements in science and technology, PJTSAU is also engaged in innovative research on emerging technologies like artificial intelligence (AI), machine learning and image processing, including standardization of drone technology, particularly for spraying protocols, disease diagnosis and survey and mapping of resources. Keeping in view of severe labour scarcity for farm operations and the keen interest envisaged by the Govt. of Telangana to employ drones in Agriculture, PJTSAU is building partnerships with startups towards the application of drones and other emerging technologies to transform the agricultural sector of Telangana.
Rules & Regulations
12th March, 2021 – Rule 15 A and CAR Section 3, Series X, Part – I was superseded by the UAS Rules, 2021 published by MoCA in the Official Gazette
25th August, 2021 – The UAS Rules, 2021 was repealed by "The Drone Rules, 2021
24th October, 2021- The National UTM Policy Framework was published by MoCA
26th January, 2022 – The Certification Scheme for Unmanned Aircraft Systems was published in the Official Gazette
Genesis of Drone Application and
Research in PJTSAU
Aerial mapping and digitization of university properties and lands at Rajendranagar main campus, Agricultural Research Stations and KVKs of Central Telangana Zone were completed in the 2019, after an MOU with AEGIES Drone manufacturers on 27.9.2018.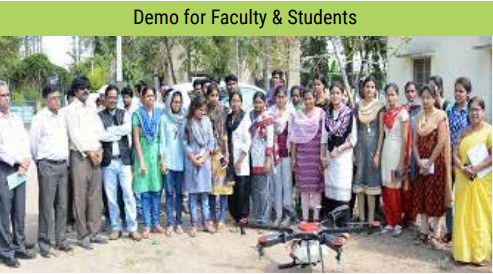 Initiation of research on "Assessing of spray fluid requirements for aerial spraying using drones in rice crop" at Rice Research Centre, Rajendranagar on 21st February, 2019
Observation trial on "Evaluation of performance of drone aerial
spraying and traditional ground-based knapsack spraying in managing
safflower aphids" at Agriculture Research Station, Tandur during
November, 2019
Organized a brain storming session on "Drone-based applications in
agriculture" at University Auditorium, Hyderabad on 9th January, 2020
involving industry representatives, farmers, scientists from PJTSAU
and IIIT, NGOs etc., under the chairmanship of Honourable Vice
Chancellor, PJTSAU
MOU signed between PJTSAU and Aviation Department, MIT, Anna University on 9.1.2020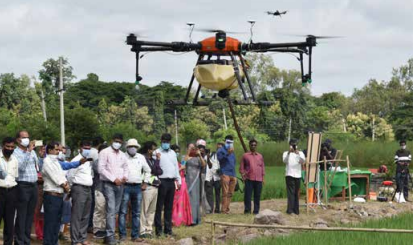 Launching of "Network Project on Evaluation and Standardization of Aerial Spraying Parameters using Drones in Major Field Crops" by Sri. Jayesh Ranjan, Principal Secretary (Industries & Commerce and IT) and Dr. B. Janardhan Reddy, APC & Secretary (Agriculture), Government of Telangana at PJTSAU on 24th September, 2020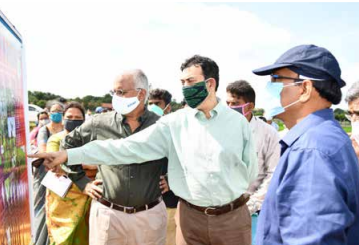 MOU signed between PJTSAU and various drone companies viz., Marut Dronetech Pvt. Ltd. and Thanos on 5.12.2020